Norma DeGroot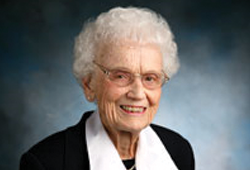 The DeGroot family: a legacy of ethics at Sanford


Norma DeGroot's support of ethics at Sanford Health began more than two decades ago when she established an endowment dedicated to the Center for Ethics and Caring in honor and memory of her husband, Abel.

"My grown children and I wanted to make a gift in Abe's memory," Norma said. "At the time, nobody was paying much attention, charitably speaking, to the ethics program. The more Joyce, Charles and I thought about what an important area it is, the more we were compelled to direct our gift there."

The DeGroots' support has been a driving force, making a great impact in the region on the study and teaching of ethics issues and care in the health care arena. Prior to Norma's death in 2012, she made arrangements for the ultimate commitment in the form of a planned gift to the Sanford Health Foundation.

Her daughter, Joyce, also deceased, was the inspiration for Norma's legacy gift.

"Joyce left a nice gift to the Sanford Cancer Center in her will," Norma said. "Charles and I thought that was great and it inspired me to do the same."

In recognition of this very generous commitment, as well as the historical support by Norma and her family, the Center for Ethics and Caring was renamed The DeGroot Center for Ethics and Caring at Sanford Health.
A charitable bequest is one of the easiest ways you can leave a lasting impact on Sanford Health Foundation. Learn more.