Gary and Kathy Conradi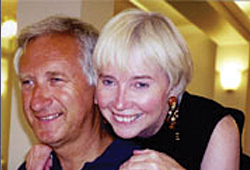 Gary & Kathy Conradi: grateful parents make commitment to Sanford Children's


Gary and Kathy Conradi have been avid supporters of the Sanford Health Foundation for years, ever since their fourth child, son Bill, spent one year in the former Sioux Valley Intensive Care Nursery (ICN), the forerunner of today's Boekelheide Neonatal Intensive Care Unit (NICU). The Conradis are convinced Billy survived and grew because of the sensitive care, support and love of the staff, nurses' aides, physicians and surgeons of Sioux Valley Hospital (now Sanford) at critical points in that first year of his life.

In appreciation of the miracles they saw arise each day from the caring hands of the staff, the Conradis established the Intensive Care Nursery Employee of the Year Award. The Conradis later took advantage of the IRA rollover provision to establish a second endowment to sponsor a clinic exam room at Sanford Children's Hospital. Their gift was made in memory of Gary's twin brothers, George and Gerald. They were born in 1936 and lived only a few days.
"Making this gift is my way of remembering my brothers who didn't have a chance at life," said Gary "They were each over three pounds, which today, because of superb neonatal medicine, isn't even considered that small. But in the 1930s, babies born prematurely and small didn't survive. Kathy and I hope our gift will help other children, especially those born too early."
Gary continued, "Kathy and I wanted to sponsor a room in Sanford Children's Hospital, and this IRA rollover provision is the perfect tool to help us accomplish that goal. We can take the money right from our IRA and give it directly to Sanford. It doesn't increase our taxable income."
Learn more about qualifying for the IRA rollover.