Fred and Adeline Gassen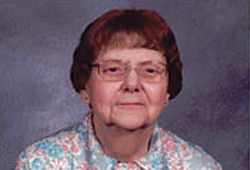 Fred and Adeline Gassen: a gift of land for Sanford Children's


What happens when a child has to be alone in the hospital because her parents have a ranch and other children to care for? The answer to this question and a long-ago experience helped lead one donor to make a generous gift to Sanford Children's.
Fred and Adeline Gassen of Gregory, S.D., loved children but weren't blessed with any of their own. In the years since Fred's untimely death, Adeline carried on the family value of supporting various well-known, national children's causes. As Adeline and her attorney, Jack Gunvordahl, were preparing her charitable estate plans, he urged her to consider a gift to Sanford Children's since they helped children in her home state of South Dakota.
Adeline's desire was to fund a gift annuity with a piece of land, thus turning a low-income producing asset into a steady income stream for the rest of her life. While visiting with representatives from the Sanford Health Foundation Adeline and her sister, Rita, learned about Sanford's Child Life program, a special program that lends a hand and guides children through the hospital event. Sanford's Child Life Specialists are a unique team of professionals who help children and families cope with their medical experiences. Their main focus is to meet the child's emotional, coping and developmental needs throughout their hospital stay and to make the experience a more positive one.
As they learned how the Child Life professional stays with the child through the various procedures, Rita reminisced about a long hospital stay, far from home, that occurred more than 60 years earlier. She recalled being scared, isolated and alone. "If I had had a special person like that Child Life Specialist to help me through everything," she said, "I wouldn't be remembering it with tears still to this day." Seeing how distressed her sister was, Adeline added, "If my gift can help children so they won't have sad memories 60 years from now, I would like to do that."
Each donor has a unique story to tell, a particular reason why he or she gives. For Adeline, it was the opportunity to help children through the difficulty of a hospital stay. The mission of Sanford Children's was a good match for Adeline's charitable interests. She was delighted that she could honor Fred's memory and help all the children of South Dakota at the same time. She hopes her gift will inspire others to do the same. "I wish everyone would give at least one gift to Sanford to help children," she said. "Wouldn't that be great?"
In recognition of Adeline's generosity, the Gassen Radiology Center at Sanford Children's is named in honor of Adeline and Fred. For more information about gift annuities or supporting Sanford Children's, please call (605) 328-5700.
View a color example of your gift annuity benefits based on your age.