Lavina Sankey Kemp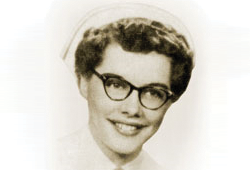 Nurse Alumna, Lavina Sankey Kemp, Leaves Legacy Gift


Lavina Sankey Kemp, a graduate of the Sioux Valley School of Nursing, Class of 1955, achieved an act of vision and foresight when she left a bequest to the Sioux Valley Hospital (SVH) School of Nursing Alumni Association Scholarship Endowment in her will and estate plan.
We can only imagine what went through her mind as she met with her lawyer to prepare these documents, but perhaps she was reflecting on her life and its accomplishments, her own hopes and her dreams. Perhaps she asked herself what she might do to make the world a better place. Her legacy gift to Sanford Health is like planting a tree under whose shade Kemp, herself, will never get to sit. But this gift will bring meaning to many other lives. Her gift will provide scholarships for nursing students through the Nurse Alumni Scholarship Endowment. These nursing students will be Kemp's legacy and hope for the future.
Sioux Valley Hospital opened its school of nursing in 1898 and graduated the last class in 1986. More than 2,100 nurses received their education at Sioux Valley Hospital. Many stayed to serve the Sioux Falls community, but others such as Kemp served the medical profession and various communities across the United States. Kemp describes the SVH School of Nursing as a good school with a good reputation, close to home. The nursing students lived together, studied together and worked together through their nursing school years and became very close.
Kemp was a nurse in Massachusetts and Pennsylvania and spent her last years in Maine. She was able to return to Sioux Falls only once to attend a nurse alumni reunion, but her ties remained strong. She wanted to make a difference, to honor the organization where she trained for her chosen profession and to inspire others to do the same.
We are so grateful to Lavina Kemp and all our Legacy Society members, for their thoughtful vision for the future. The legacies they leave will impact countless lives and help Sanford Health carry out its healing mission for generations to come.
Learn more about leaving a legacy gift to the Sanford Health Foundation.