Richard and Judy Herting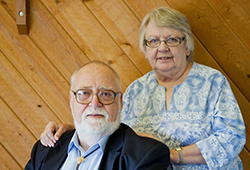 Richard and Judy Herting: grateful grandparents create bright future for Sanford Children's


Richard Herting grew up across the street from Sioux Valley Hospital long before it became the Sanford USD Medical Center. He didn't realize it at the time, but his life would always be connected to the health system.
As a boy, Richard delivered newspapers to neighbors and often brought them vegetables from his mother's garden. He remembers many of them, including Lyle Schroeder, who served as Sioux Valley's CEO for 36 years, and Ann Berdahl, a legendary nursing instructor.
"Every time I would bring the newspaper to Ann Berdahl, I had to have her cookies," he recalled fondly.
Today, Richard and his wife, Judy, are Sanford Health Foundation Legacy Society members who have solidified their commitment to Sanford Health's future. Their generosity has helped achieve their personal financial goals while securing a future of state-of-the-art health care for families and neighbors across the region. Their inspiration to give is especially inspired by their granddaughter Missy, who is alive today because of care received at Sanford.
"Some people give to give, some people give because of the things that happen-like what happened with Missy-and others do it for economic reasons," Richard said.
In 2003, Missy was 17 years old and moving into the dorms at South Dakota State University. She was just beginning her freshman year, an exciting new journey, when things took a sudden turn. She began having trouble hearing out of her right ear and then her right eye began to droop and lose its ability to track with her other eye. Before long, she underwent a CAT scan that revealed a brain tumor about the size of a fist.
The Hertings placed their hope and trust in Sanford Health to save Missy's life. Surgeons successfully removed 80 percent of the massive tumor and then continued to treat and care for her until she was fully healthy again.
The Herting's experience helped motivate them to remember Sanford when, in 2006, they sold one of their rental properties southeast of the Sanford USD Medical Center campus. They used the assets to establish a charitable remainder unitrust (CRUT), a smart giving option that pays donors like the Hertings a fixed percentage of the principal as revalued each year. The trust's remaining assets benefit health care programs and services at Sanford.
Two years later, in April 2008, they established the Richard and Judy Herting Endowment for Children by selling two more rental homes.
"It was a good fit," Richard said. "The timing was good."
The Hertings took advantage of tax deductions and the extra income based on a fixed percentage of the annual fair market value of the property. Plus, they could shed some of their rental properties and look to retire from their rental business.
"For us, it was a win-win," Judy said.
It was a perfect arrangement for them at the right time.
"As you get older, your need for more money evens out, and if you can have a steady income, it makes life so much easier," Richard said. "It helps when you have a charitable remainder trust."
To learn more about charitable remainder trusts and other smart ways to give that will benefit you today and support the future of health care, please contact your
Sanford Health Foundation regional expert
.