Dick and Jane Bohy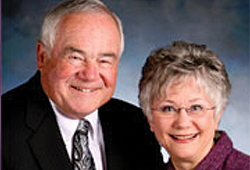 Charter Members, Sanford Health Foundation Legacy Society


As Dick Bohy likes to put it, "In 1974, Lyle Schroeder, chief administrator of Sioux Valley Hospital, took a chance on a green kid from Nebraska and made him the director of the Sioux Valley School of Nursing."
At that time, Sioux Valley Hospital's employee base was around 840 and Dick's responsibilities were administering the budget and building enrollment for the nursing school. In 1976, he was promoted to director of nursing for the entire hospital, and was one of the few non-nurse administrators in the country. At this time, there were incredible opportunities to define the high nursing standards and practices Sanford Health follows today, standards built on the shoulders of such greats as Ann Berdahl, Leora Magestad Allen and Irene Fisher Coon. Dick went on to start both the marketing department and the social work program. He saw the beginning of Sioux Valley Hospital as the region's only Children's Miracle Network facility and was there for the first telethon.
Dick was one of the visionaries who recognized the need not only for a fundraising program, but a Foundation, now known as the Sanford Health Foundation, which raises money for all Sanford Health entities. Dick and his wife, Jane, feel their lives are intrinsically interwoven with the growth of Sanford Health. So, it was natural, when the Sioux Valley Foundation began its Legacy Society many years ago, Dick and Jane were among its charter members. The Legacy Society recognizes friends of Sanford Health who have arranged for a future gift by means of a will, trust, insurance policy or life income agreement.
Dick and Jane believe in the future and wanted to leave a legacy that will make an impact. They look at their Legacy Society gift as an investment in Sanford Health, the organization that has meant so much to them in their lifetime. "Sanford is on my list of important entities," Dick said. "I want to give my money to this organization and not to the government in the form of taxes. Jane and I want to leave a gift that will benefit others and make a difference."
Dick and Jane Bohy have solidified their legacy, ensuring that their life's work and personal values will be remembered as they wish them to be. They hope you will be inspired to do the same.
Learn more about leaving a legacy gift to the Sanford Health Foundation.