Dr. T.A. and Maureen Schultz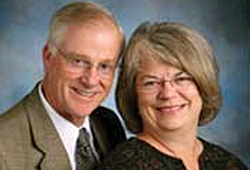 Dr. T.A. and Maureen Schultz: an enduring commitment to Sanford's mission


Anyone visiting the wall of history in the concourse at Sanford USD Medical Center, with its timeline of significant events and milestones, will notice the images of key people instrumental in the center's evolution from a traditional hospital facility to an integrated regional system of health care. One of those people is Dr. T.A. Schultz, whose mark on Sanford's history is not only professional, but personal.

Dr. Schultz joined the Sioux Falls medical community in 1983 as an endocrinologist at Central Plains Clinic. In addition to developing the clinic's nuclear medicine department, he served as its president, and went on to play an integral role in the merger of Central Plains with Sioux Valley in 2001. Now known as Sanford Clinic, it is comprised of more than 340 physicians (including Schultz) and serves the four-state region.

Soon after guiding that monumental process, Dr. Schultz and his wife, Maureen - a former registered nurse and active community volunteer - began leaving their philanthropic mark on Sanford Health's history by creating an endowment to support the diabetes program. The couple later made a six-figure commitment to the Sanford Children's Challenge campaign by creating the T.A. and Maureen Schultz Endowment for Sanford Children's Hospital, demonstrating their support for Sanford Health's next major milestone - the Castle of Care ®, a dedicated, state-of-the-art children's hospital.

"We believe in this project and in its importance to the people of our region," Dr. Schultz said. "We feel honored to be part of making it a reality."

The Schultzes made their commitment through a charitable remainder annuity trust . This planned giving vehicle allows donors to make a gift to the Sanford Health Foundation in the form of a trust, and then receive fixed payments for a lifetime. This form of giving offers donors the opportunity to make a gift of low-yield assets and increase their return.
"Our intent is to help meet our long-term financial and estate planning objectives, and at the same time fulfill our wishes of making a very sizable future gift to the Sanford Children's Hospital," Dr. Schultz said.
In recognition of the Schultzes, and in honor of their generous gift, a room in the Miller Pediatric Intensive Care Unit at Sanford Children's carries their name.
Explore charitable remainder annuity trusts or other forms of planned giving.