Brian Hayer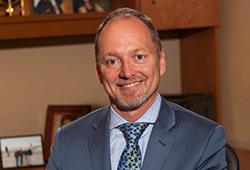 Brian Hayer: a life-threatening experience confirms commitment to local health care


Brian Hayer did everything right.
He stayed active and considered himself very fit, working out every day and eating healthy.
Even as a past board member, active donor and Legacy Society member of the Sanford Health Foundation, Hayer never imagined he could end up in the hospital for something more than a regular checkup.
"For the good of the community, I wanted everyone to have a good experience," Hayer said, explaining his strong support for the Foundation. "I never thought I would experience it myself."
That all changed when, in September 2013, Hayer's friends and coworkers noticed he was confusing certain words. He would mix up words like "duck" and "pheasant" while talking about the upcoming hunting season. Some friends who were doctors suggested Hayer have an MRI.
As a healthy man in his early 50s, he was not overly concerned but decided to have the MRI, just in case.
When the results came back, Hayer was shocked to learn that he had suffered a stroke. He immediately went to the emergency room at Sanford Health Fargo.
"I could not believe it," Hayer said. "I had done everything right to not have a stroke."
A series of medical tests revealed that the stroke was likely caused by a hole in Hayer's heart-a defect that would have allowed a blood clot to travel to his brain. Fortunately, cardiologist Dr. Tom Haldis was able to repair the issue and prevent further complication.
During his time in the hospital, Hayer said he was amazed by the thoroughness and attention his doctors and nurses showed him.
"I have nothing but great things to say about the nurses and doctors," Hayer said. "They weren't in a hurry to leave the room or just get through their rounds. There was real concern for me as a person. I could really feel that.
"When you get into a very large organization, people wonder if you get the care and the service, but boy, you do."
Today, Hayer feels great and continues his regimen of regular fitness and healthy eating. His speech has returned to normal.
Hayer's unexpected health issues reaffirmed his longstanding commitment to Sanford Health. He's proud of the decision he made many years ago to dedicate a portion of his will to the Sanford Health Foundation Fargo.
"What a great way to leave a legacy for many, many years to come," Hayer said.
He encourages others to plan for the future regardless of age.
"It's important for everybody at any age to look at where you want to give your money," Hayer said. And for him, that commitment stays with Sanford Health.
Learn more about leaving a legacy gift to the Sanford Health Foundation.